Zig Zag

Description :

Zig Zag is a compact carter with a large filtration area. It is adapted to the ø 25 mm membranes INSIDE CéRAM™ and Filtanium™. It allows to treat solutions with help of 3 semi-industrial membranes placed in series.

Application :

Concentrations or purifications of cells, yeasts, fingi, virus, bacterias, enzymes, amino acids, etc..
Pyrogen free of active principles, cultures medium and amino acids.
Separations between micro-organisms and culture medium or active principle.

Benefits :

Sterilization by overheated water, steam or oxidising agents,
Autoclavable,
Regeneration by chemical action,
High performances in Microfiltration, Ultrafiltration and Fine Ultrafiltration,
Low hold up volume 1.7L for permeate side.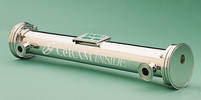 Information request