Valisette Laboratory test kit

Description :

This equipment allows the operations of separation in Microfiltration, Ultrafiltration and Fine Ultrafiltration ranges. With its low hold up volume, this unit allows to treat solutions containing micro-particles or suspensions with a view to do operations of concentration, purification, coupling to a membrane bioreactor, etc.

Application :

Sterile concentrations or purifications:

cells, yeasts, proteins, bacterias, serums, broth, enzymes…
Pyrogen free of active principales, cultures medium and amino acids.

Separations bethween:

 micro-organisms and culture medium or active ingredients etc…

Continuous systems:

Continuous fermentation by the elimination of growth inhibitors and / or metabolites.
Enzymatic reactors.

Benefits :

Excellent performances in Microfiltration, Ultrafiltration, Fine Ultrafiltration,
Reusable, long Life functioning,
Autoclavable,
Absolutely inert,
Environmentally friendly.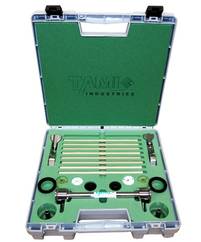 Information request