ISOFLUX™

Description :

Tubular ceramic membranes entirely made for food processing & bio-industries. The ISOFLUX™ membrane improves performances of existing separations and allows separations which were difficult or impossible to make before.
The ISOFLUX™ membrane allows obtaining a constant permeate flux on each point of the membrane without using a complex and expensive system. To obtain this result the thickness of the separating layer decreases from the inlet to the outlet in order that the ratio pressure/thickness of the layers stays constant.
In opposition to classical membranes for which the permeate flux decreases from the inlet to the outlet, the ISOFLUX™ membrane allows obtaining a permeate flux independent on the position where it is measured.

Application :

Food processing:

Milk bacteria removal
Whey bacteria removal
Milk casein / whey protein separation
Fat / protein separation from whey
Syrup bacteria removal

Bio-industry:

Enzyme / protein extraction from the fermentation broth
Bacteria / active principal separation

Benefits :

High performances
Simple use (classic filtration loop)
Flexible use (important latitude in terms of work, pressure, standard cleaning)
Reduced risk of fouling because

All the channels work in identicaly way
The membrane layer remains fine despite its tichkness gradient
The support of membrane is standard

Geometrical configuration compatible with other existing industrial units.
External diameter :
Ø 25 L=1178mm*
Number of channels :
Hydraulic diameter :
Area (sqm) :
Available cut-offs** :
08
6
0,20
MFT/
23
3,5
0,35
MFT
49
2,5
0,5
MFT
*Available lengths: 1020, 1178 mm.
** MFT 0,14µm, 0,20 µm, 0,45 µm, 0,80 µm, 1,2 µm, 1,4 µm.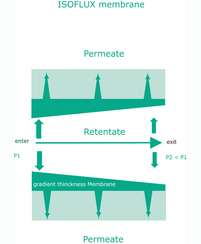 Information request